Residential locksmith
Back To Our Services
Keeping your home safe has become essential and necessary in today's busy and hectic age. Most of us spend most of the day away from our homes while at work or at college. We want to be confident that we won't be met with any nasty surprises when we open that front door at the end of a long day.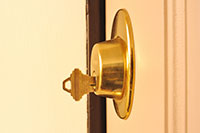 Thanks to us, securing your home has never been easier. We offer professional and reliable residential locksmith services. These include door- and window lock installations to name a few.
We have many years of experience in the business. This, coupled with our well-trained technicians and excellent customer service, makes us the best company to choose when you're thinking of upgrading your home security, or if you need anything repaired or replaced.
We install only the best lock systems to ensure complete security for you and your family. With so many things to do in life, let making sure that you and your family are safe be one less thing to worry about.
We'll be There any Time
Because we want our guests to be safe at all times, we're available at all times. That's right, we offer a 24-hour lock service to ensure that you'll never be locked out of your house at 2am! You may also get home late after a work or family function and realize that you've lost your house keys. Simply give us a call and we'll be there in no time! A more unfortunate scenario is that you arrive home to find your front door wide open and all of your personal belongings stolen. You would want to feel safe in your home again as soon as possible. That's where we come in. Just give us a call and one of our trained technicians will be there to replace your locks and give you one less thing to think about.
Some other Residential Locksmith Services Offered by Us
We install, repair and replace all types of door locks. We also fit window locks for added security. You may keep valuables such as jewelry, cash or important documents in your home. Let us install a reliable and secure safe for you to make sure that those valuables stay safe. Also, you may work from home and have private data stored in filing cabinets. We install cabinet locks to ensure that this information remains private.
We're Here for You
Here at Locksmith Huntington Beach, we believe that the client is always right, and that we should provide our customers with excellent service all of the time.
Please contact us if you have any questions on any of our services, or if you simply require some additional information.